Exemple of the analysisand reconstruction of merovingian footwear and its richly ornamented leg bindings from queen Arégund's tomb in the Basilica at Saint-Denis, France.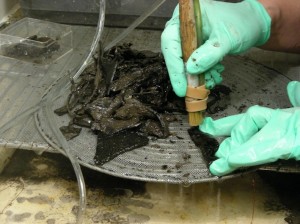 The working method of a calceologist, from muddy fragments to models and the final reconstruction, or how a piece of our collection comes into existance.
The least costly method to determine the animal origin of leather is to do a morphological comparison of the grain side. You will find here an iteractive tool that helps comparing and identify unaltered leather.